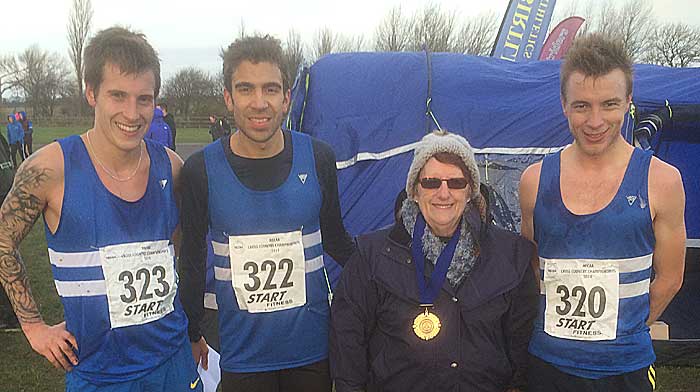 Photo courtesy of Archie Jenkins
Athletes from Morpeth Harriers rose excellently to the challenge of very tough and demanding courses
at the 109th North Eastern Counties Cross Country Championships, which were superbly hosted
by one of the regions newest clubs, Tyne Bridge Harriers, on Newcastleís Town Moor on Saturday 13th December.

For Morpeth Harriers it was very much a day of medal and trophy winning success,
as they made the podium in seven of the nine team opportunities, and individually in six of them.

Team wise the club achieved no less than three Championship victories,
these coming in the Senior Menís, Under 13 Boys and Under 17 Menís events.

Individually Jonny Taylor, Nick Swinburn and Lewis Timmins made it a formidable Morpeth Harriers
first second and third in the Senior Menís team success, and for Timmins it was one of the runs of the day,
as he held off the close attentions of 2013 champion Dan Garbutt of Durham City
to deny him an individual medal this time round.

Another run of the day was that of Elliot Kelly, who finished third in the Under 20 Menís Championship,
which he was running for the first time, being a first year in this age group.
This was also Kellyís first ever individual Cross Country Championship medal.